Upgrade your New Year's resolution, set a goal and stick to it.
Upgrade your New Year's resolution, set a goal and stick to it.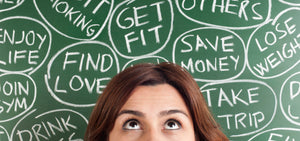 Upgrade your New Year's resolution, set a goal and stick to it.
Sound Familiar?
1st: "This is my year, no more take-out food. I'm going to be super healthy – just you wait!"
January 3rd: "Want to get take-out for dinner tonight?"
Can you relate?
A Goal without a Plan Is Just a Wish
Despite being set with the best of intentions, New Year's resolutions seldom produce long-lasting results. Once the festive dust from Christmas and New Year settles, the reality of taking action toward achieving your lofty resolutions is where the struggle begins, momentum stalls, and these once exciting goals remain unrealised for another year.
It is a very human trait to sometimes set unrealistic expectations on what 'should' be achieved, desire fast results, force yourself to do things you don't like (e.g. certain types of exercise, long work hours or restrictive diets) in the name of progress, and/or struggle to find the self-belief that you can actually achieve your desires.
So whilst those dreams and goals are certainly there, creating an achievable, actionable and realistic plan is vital to helping you hit the ground running, and bring your resolutions into reality.
To start, take some time to reflect, not just dream:
What are you proud of achieving this year?
Was there anything unexpected that was a roadblock to your success?
Are there any areas of your life you would like to adjust or improve?
What positive changes can you make in the next year to help you reach your goals?
Get SMART about goal setting for 2019 
Next, think of a New Year's resolution you would like to reach.
What are the reasons and motivations for embarking on this change?
Why do you want to change?
How do you feel now, and how will you feel once you achieve your goal?
Tapping into why you want to achieve your goal and how you want you feel when you achieve it are imperative – these will reveal core motivating drivers and feelings that you can draw on when the going gets tough.
For example, you may want to lose some weight, so you can age healthily and spend more time being active with your kids. When you achieve this you may feel proud, confident, energised and joyful – these are some powerful motivators!
Once you have decided what you want to achieve, you can use the S.M.A.R.T goal actinium to create a concrete plan toward your outcome.  To make it simple and uncomplicated, each letter of S.M.A.R.T refers to an element aimed to help you to develop a plan to reach your specific outcome. 
SMART Goals
Specific:
Goals ought to be clear and precise.
While 'lose weight' is a goal, it's not a specific one!
Instead, consider: how much weight? In what time frame? Using what methods?
Measurable:
Determine a measure that indicates when the goal has been achieved.
For example, aiming to lose 10 kg using a ketogenic, calorie-restricted diet, and 4 x 45 minute exercise sessions per week.
Attainable:
Set a goal that is realistic for you to achieve.
Fitting into a size 6 pair of jeans by Easter may be unrealistic for someone. Alternatively, aiming to lose enough weight to feel comfortable in your current wardrobe is attainable and will make you feel great when you achieve it!
Relevant:
Craft a goal that is relevant to your lifestyle, capacities and deeper desires.
Losing weight via fasting or crash dieting can result in weight loss, but isn't relevant to you if you thrive off regular meals, need stable blood sugar for energy, require sufficient protein for your muscle mass and want to ensure you keep the weight off long term.
Placing unrealistic expectations on yourself or on the outcome is a sure-fire way for it to stay a goal, and not a reality.
Time-bound:
Assign your goal a time frame, this will help to make it specific and also make yourself accountable for achieving it.
For example, wanting to lose 10 kg in the first three months of the year.
This SMART process then transforms a resolution to 'lose weight' into a goal of: I will lose 10 kg in the first three months of the year using a ketogenic, calorie restricted diet, while completing 4 x 45 minute exercise sessions per week.
When Weight Loss is your Wish
In line with the above example, a common New Year's resolution is to lose weight. This is reflected in a recent study finding 42% of adults are currently trying to lose weight, while another 23% are working to maintain their weight.[1]
There are many contributors to weight gain such as your food choices, environment, microbiome and metabolic set point. It is the complex interplay between all of these factors that results in many people gaining weight, and why many quick-fix solutions do not have long-lasting results.
A comprehensive option that targets all of these aspects of weight gain is the HealthMasters Shake It Practitioner Weight Management Program. Aimed to provide sustainable weight loss, this personalised solution is tailored for you while providing the support and guidance of a qualified healthcare Practitioner. Importantly, the program also incorporates coaching to address any behaviours, attitudes and habits that impact your capacity to lose weight. In essence, if you wish to lose weight, the HealthMasters Shake It Practitioner Weight Management Program creates a 'foolproof' plan to help you reach your goals, and help keep the weight off.
If January is the time you chose to take action toward your dreams and desires, consider creating some SMART goals instead of non-specific resolutions. Next, set yourself up for success by contacting Kevin Tresize ND your HealthMasters Shake It Practitioner who can help you make sure 2019 is your year to look and feel better!
References
[1] Santos I, Sniehotta FF, Marques MM, Carraça EV, Teixeira PJ. Prevalence of personal weight control attempts in adults: a systematic review and meta-analysis. Obes Rev. 2017 Jan;18(1):32-50. doi: 10.1111/obr.12466.