Ancient Minerals 10% off RRP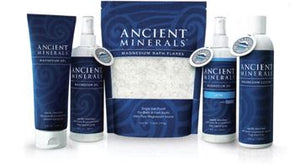 Ancient Minerals™ Magnesium Oil
Do you have Muscle Cramps, Restless Legs, Back Pain, Migraine, Stress or Period Cramps?
Are you having difficulty increasing your magnesium levels?
Do you want to have more energy?
Ancient Minerals Magnesium is 100% organic with natural Zechstein magnesium chloride products including oil spray or rub on which works fast at relieving aches and muscle spasms.
Ancient Minerals Magnesium is the purest, best priced magnesium chloride oil available. each labelled with a certificate of PURITY.
Ancient Minerals Magnesium can increase energy levels.
Ancient Minerals Magnesium can be rubbed into your skin to relieve pain.
Ancient Minerals Magnesium is not just a pain killer or a band aide. It rejuvenates the whole body.
Ancient Minerals Magnesium bath flakes are silky potent magnesium chloride flakes. Bathe in them for a most wonderful experience.
Ancient Minerals Magnesium can address the cause of disease by helping with detoxification of cells. Helping to reduce toxins, acids, excess calcium and heavy metals.
Ancient Minerals Magnesium relaxes muscles, nerves, restless legs and neurotransmitters.
Ancient Minerals Magnesium Chloride Oil, Gel and Bath Flakes applied trans-dermally (sprayed on and/or massaged into the skin). Topical application of one of these ultra-pure, high strength magnesium chloride forms is a most important factor in achieving vibrant health.
Magnesium chloride is one of the best kept secrets, not only in natural medicine, but also in allopathic medicine where it is used in emergency rooms to save lives.
Oral magnesium supplements are so slow to raise crucial magnesium levels. Oral magnesium supplementation can take 12 months compared to what Ancient Minerals magnesium chloride oil or gel, trans-dermally applied can achieve in 1 month.
"Transdermal Magnesium Therapy is an entirely new way to supplement magnesium that boosts cellular magnesium levels quickly.  Magnesium chloride oil, used trans-dermally, brings a quick release from a broad range of conditions." 
Ancient Minerals transdermal Magnesium Oil is available online at HealthMasters.
Dr Carolyn Dean in her ground-breaking book 'The Miracle of Magnesium' states, "The signs of magnesium deficiency are many. Restless legs, cramps, muscle spasms, aching back muscles, lack of energy, migraines and stress are just a few as described".
Dr. Jay S. Cohen MD, author of 'The magnesium Solution for High Blood Pressure' states, "Most doctors are wary of supplements that come with promises and miracle stories. Fortunately, magnesium comes with scientific evidence that dwarfs the evidence presented for many top-selling prescription drugs".
Dr. Mildred Seelig MD, MPH, author of 'The Magnesium factor' states, "Most modern heart disease is caused by magnesium deficiency.  A vast and convincing body of research, largely ignored, has convinced us and many colleagues of this fact".
Dr Julian Whitaker MD, one of America's best-known doctors of integrative medicine and author of best seller 'Shed 10 years in 10 weeks' states, "Research has overwhelmingly demonstrated the critical relationship between low levels of magnesium and cardiovascular disease. So many high blood pressure patients could benefit from increased intake of this mineral".
Dr Zachary T. Bloomgarden MD Endocrinologist states, "Studies have shown that 90% of individuals with type II diabetes have low levels of free intracellular red blood cell magnesium".
Ancient Minerals 10% off RRP